The Femø Women's Camp has been held since 1971. Until the mid-1980s it was arranged by the Women's Liberation Movement that organized the camp, and it was based on the movement's ideals of sisterly solidarity and feminist culture.
As from the mid-1980s there was no longer a unified Women's Liberation Movement, the camp continued as an independent association.
Posters
Se all the Posters made to invite to the Womenscamp or Femøcamp
In later years we only designet flyers and in some years we made beautiful leaflets.
Now we mostly inform about the camp by internet and the social media.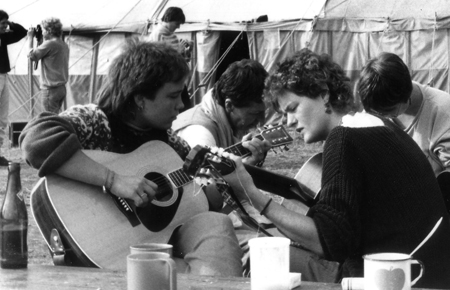 The 1980s marked a phase of departure, when many of the fundamental principles of the camp were challenged. The number of participants fell and gradually it was primarily lesbians who came.
Since the 1990s many of those taking part have looked upon the camp as a lesbian oasis, and they come to have a fun holiday in an environment where homosexuality is the norm. However, some women still come in order to discuss feminism.
Today the camp is described as having a multifarious character, because there is room for all kinds of women, each of whom comes for her own individual reasons. The women, though, agree that one of the most important reasons for going to the Femø Women's Camp is because of the feelings of solidarity experienced there – just like the time when the camp was considered to be a part of the Women's Liberation Movement.
The decisive point of reference for the camp in women's history is made clear by its current function as a place of memories for the collective reminiscences of the 1970s' new feminist movement.
Shared memories about the camp are maintained by the praxis of the participants
reminiscing about the camp, which amongst other things comes to expression in
anecdotes and songs.
(Anne Brædder: The Femø Women's Camp 1971-2010 and the collective recollections of
the camp by the 'femønists' (participants).)
Published in Arbejderhistorie 3/2010, pp. 70-86.
Womens movements history in Emma
Dänische referenzen der Flying Lesbians
Poster 1974